Regular price
53,00 €
Sale price
47,00 €
Unit price
per
Sale
Sold out
Simply beautiful:
set: Nirvana Face Soap (60 g) and Metanoia Dry Brush
Face Soap with turmeric, sea buckthorn & organic babassu oil and without comedogenic oils
sustainable facial dry brush with bio-based bristles
for gentle facial cleansing and brushing
made in Germany

The ritual:
wash face with Nirvana Face Soap and dry well
gently brush the desired areas with the Metanoia Dry Brush
apply your personal skin care product(s)
How to use:
Areas: Neck, jawline, cheeks, nose, eye area, forehead.
Brush gently in the desired areas. Injured, irritated or sensitive areas should be avoided. A slight reddening of the face after application is normal.
Sustainability

SOAP

✔ certified natural cosmetics (ICADA)
✔ vegan (certified by The Vegan Society)
✔ cruelty free
✔ selected high-quality ingredients
✔ all care oils in organic quality
✔ without sulphates, palm oil, silicones, parabens, mineral oil and microplastics
✔ saves water, plastic waste, transport weight and CO2

✔ handcrafted in Germany in a small family-run manufactory
✔ produced in a low-energy building with 100 % regional green electricity, partly from our own photovoltaic system
✔ great focus on reducing the use of water in production and in all product formulations
✔ the manufactory is involved in climate protection and social projects (e.g. Save the Children, EU School Fruit Programme) as well as various other regional projects in schools, clubs and with the German Red Cross (DRK)

✔ packaging plastic-free and biodegradable
✔ lovingly packaged in an inclusive workshop for disabled people (WfbM), a recognised vocational rehabilitation facility


DRY BRUSH

Our popular brushes are manufactured by a family business that has been in existence for five generations. It is certified for the introduced European environmental management system EMAS (Eco-Management and Audit Scheme). Production is powered exclusively by locally produced green electricity, with 60 % of energy needs covered by the company's own photovoltaic system. The heat requirement (wood drying, heating) is realised 100% regeneratively with the wood chips produced within the production.

Our beech wood comes from Switzerland and bears the FSC® trademark, which distinguishes wood products that come from responsibly managed forests or plantations - certified according to the strict guidelines of the Forest Stewardship Council®.
Hints / warnings

SOAP

Shelf life after opening when stored properly: 12 months.

Each soap is unique and may vary slightly in shape, colour and weight. This does not represent a reduction in quality or a reason for complaint, but is a characteristic of a pure, handmade product.

The part of the oils that is not saponified is called overgreasing. It nourishes the skin and keeps it from drying out. Our Nirvana Face Soap has an overgreasing of 7%.

After use, your soap should be allowed to dry well so that you can enjoy it for as long as possible.

Please store soap in a dark, cool and dry place if not used immediately. Please note that pure natural products have a limited shelf life and can spoil prematurely if stored incorrectly, exposed to direct sunlight or too much heat.


DRY BRUSH

Brush is intended for dry brushing only.

Each of our brushes is manually checked and packed to ensure the best possible quality.

Colour, structure and other differences within a type of wood are part of the natural characteristics of this natural product and do not represent a quality defect or reason for complaint. Each of our brushes is unique.

Care instructions: Tap the brush regularly to remove skin particles. Clean with mild soap in case of heavy soiling. Dry the brush with the bristles facing down. Avoid sources of heat such as radiators.
Scent

SOAP Natural fragrance composition: citrus, fruity, floral, woody. Unisex fragrance inspired by Indian incense sticks.
Ingredients

SOAP

Sodium olivate (olive soap), sodium cocoate (coconut soap), sodium stearate (stearine soap)°, aqua, orbignya oleifera seed oil (babassu oil)*, parfum**, glycerin°°, sodium chloride, curcuma longa root extract (turmeric extract), simmondsia chinensis seed oil (jojoba oil)*, hippophae rhamnoides fruit oil (sea buckthorn pulp oil)*, linalool**, limonene**, citronellol**, geraniol**, tetrasodium glutamate diacetate

* from controlled organic cultivation
** from a natural fragrance composition
° from olive oil
°° from of olive and coconut oil


DRY BRUSH

Brush: beech wood from sustainably managed forests.
Bristles: imitation boar bristles, bio-based, vegan & antistatic
Cord: cotton

Dimensions without cord: approx. 132x45x29 mm
Dimensions with cord: approx. 225x45x29 mm
Share
View full details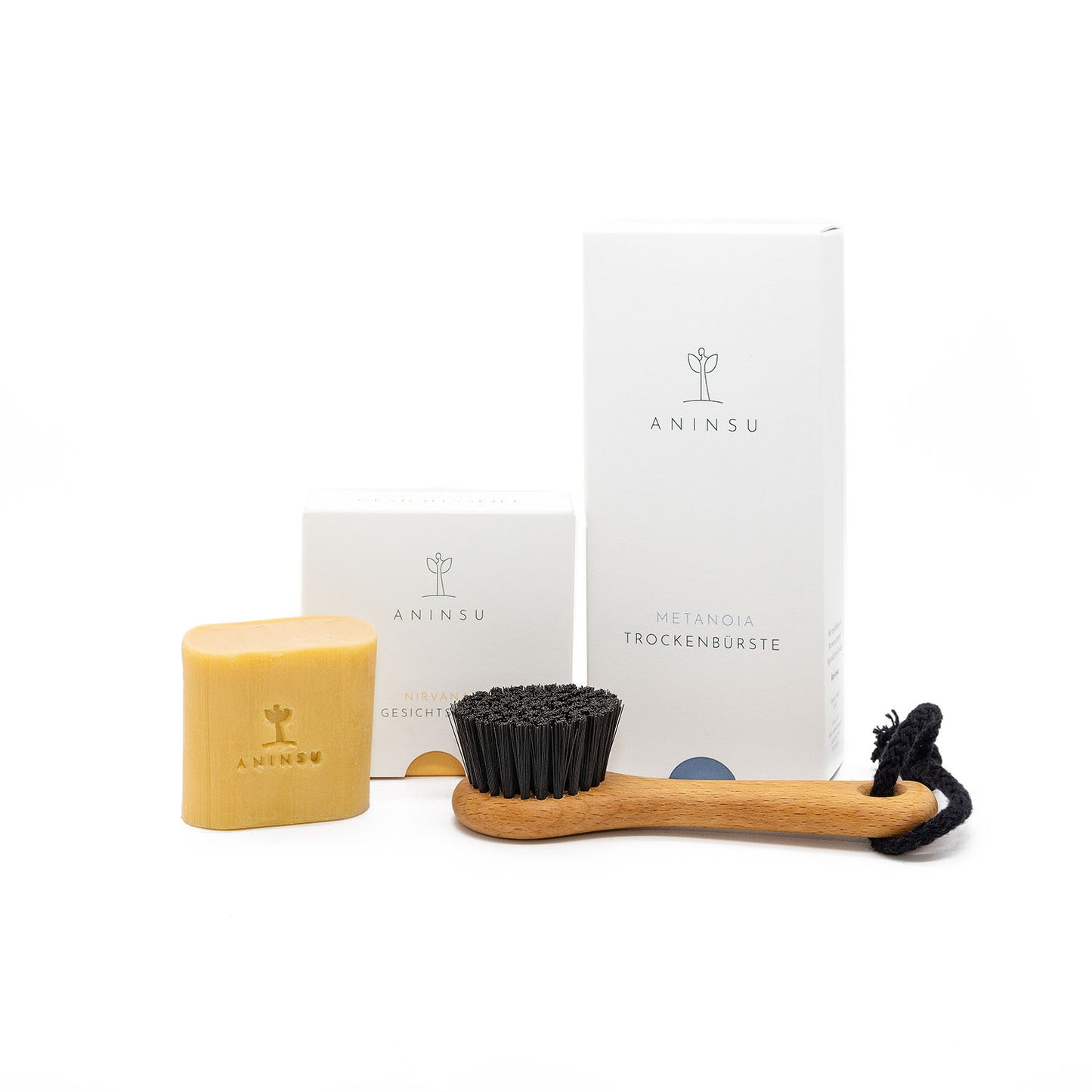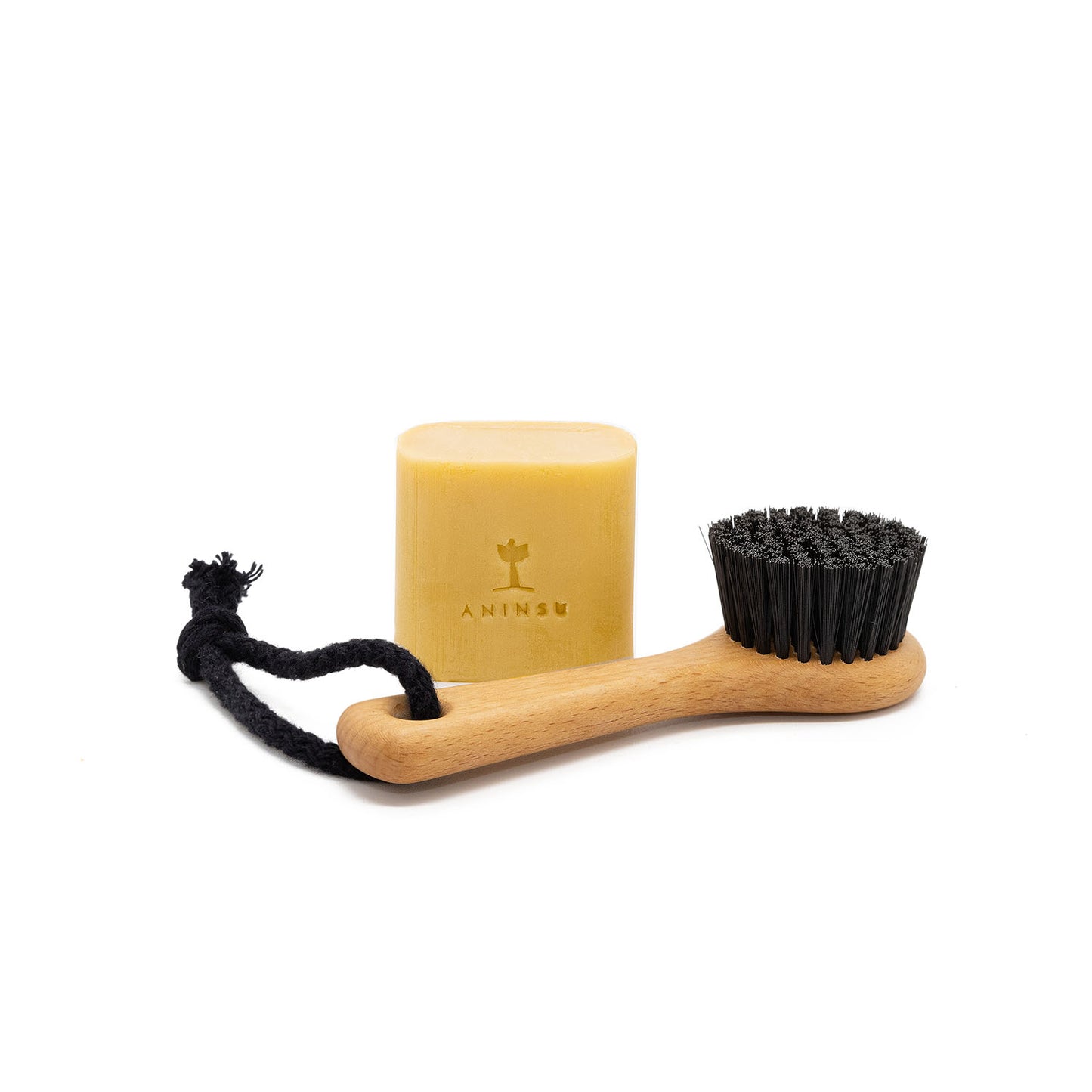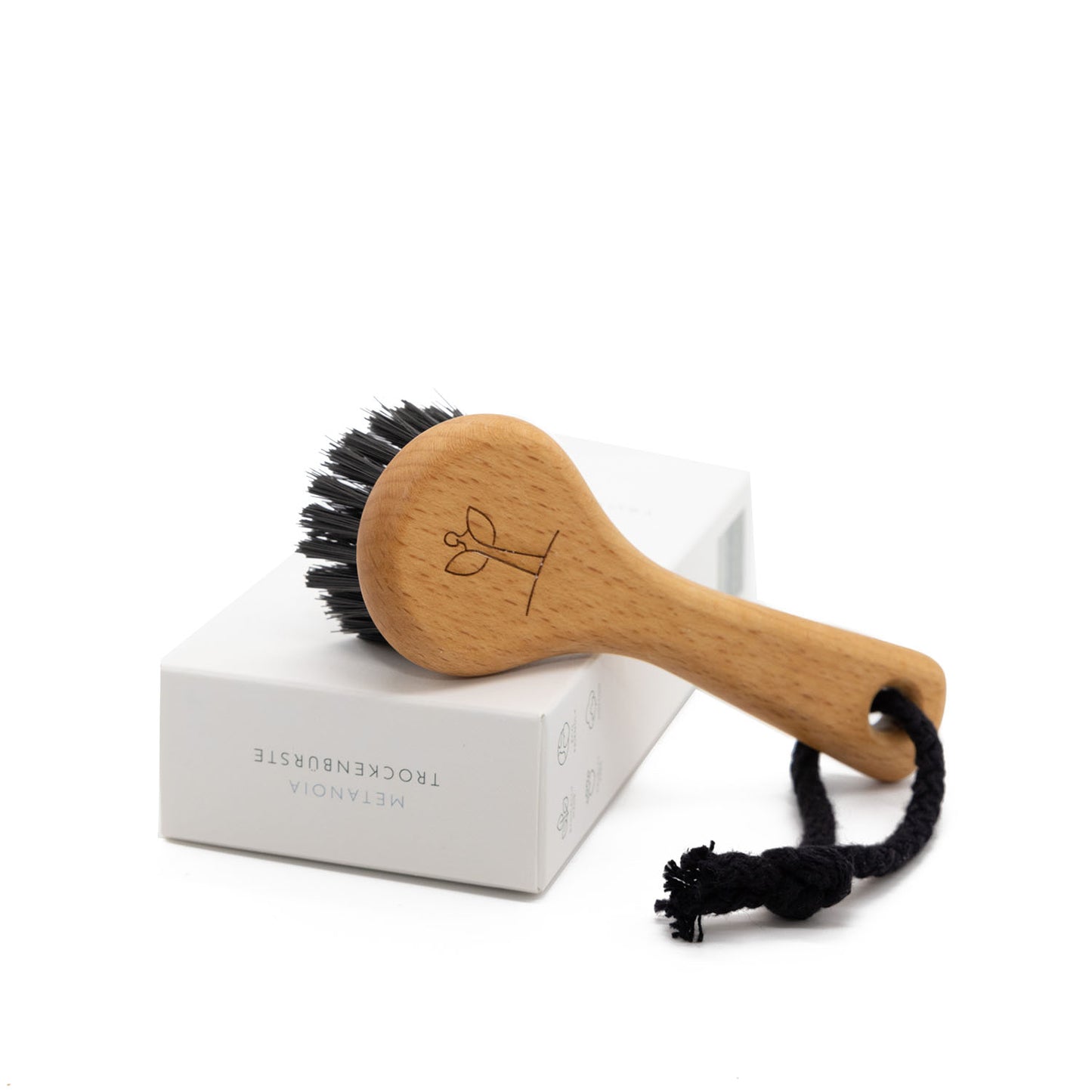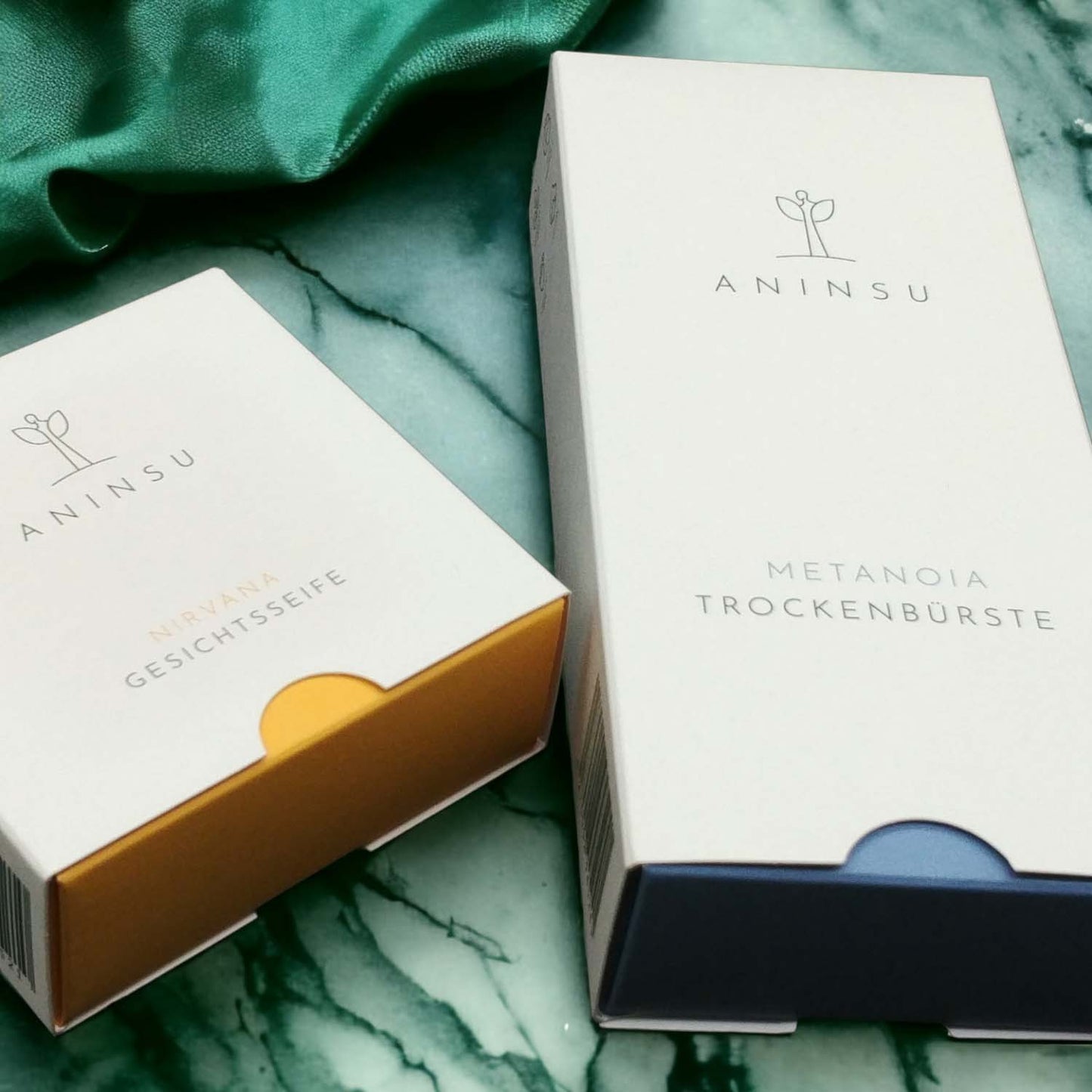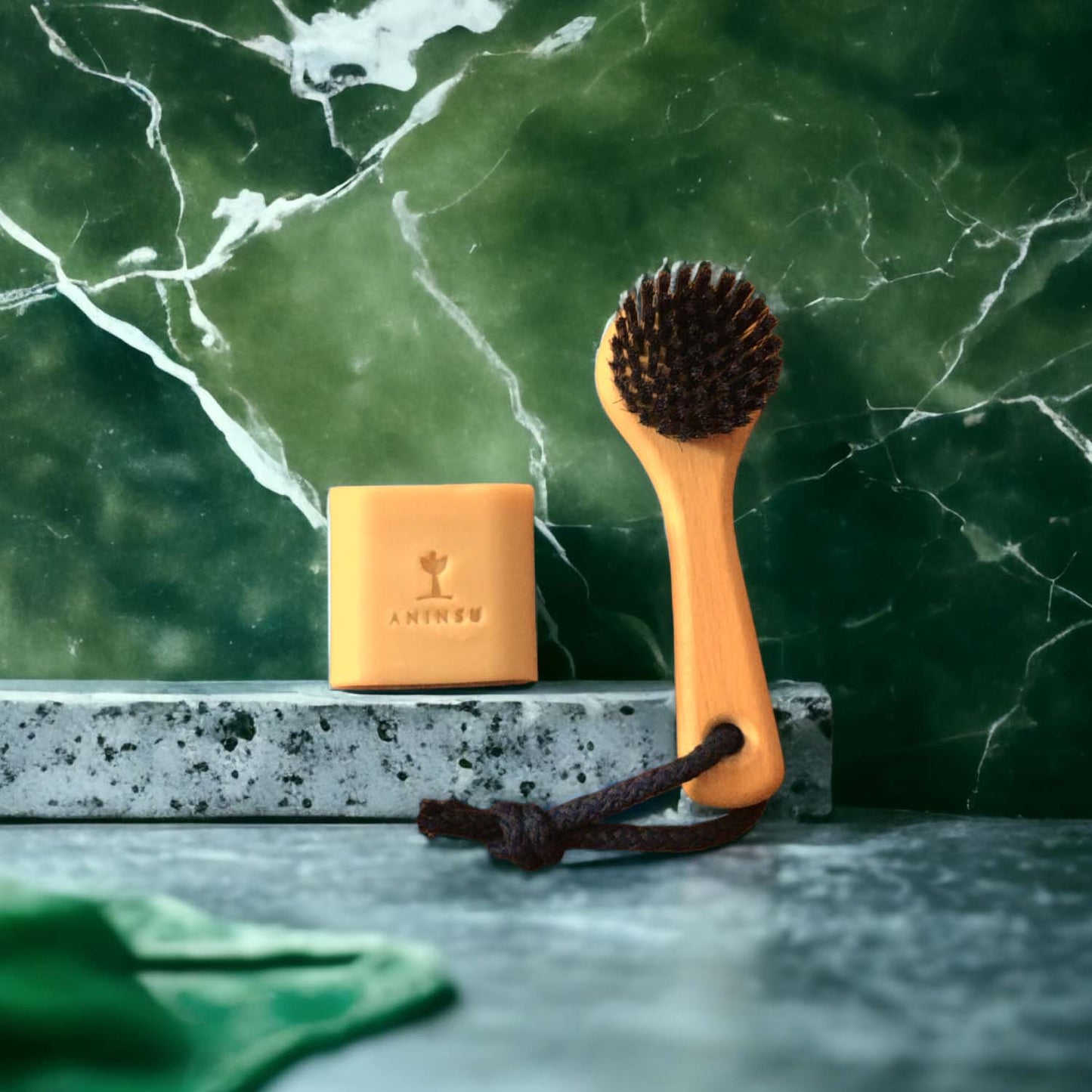 We check reviews of our products before they are published. Each review is checked individually to see whether it was made by a consumer who actually purchased the goods or services from us. An activation takes place after 24 hours at the earliest.