Regular price
Sale price
23,00 €
Unit price
per
Sale
Sold out
Simply beautiful:
sustainable soap bag for the shower
ideal for soap scraps and whole soap bars
for a gentle shower experience and economical soap consumption
organic cotton pouch
handmade in Germany

Simply special:
We love soap bags, but all the ones we have tried so far are made of rough material, be it linen, sisal or similar. The resulting peeling effect is quite nice, but only recommended once every 1-2 weeks in order not to stress the skin barrier unnecessarily. This makes commercially available sachets unsuitable for regular use.

For this reason, our Metanoia soap sachets are made of the finest muslin, a soft cotton fabric primarily from a fair cultivation project in Uganda. The sachets are handmade in the east of Germany. They are the perfect companion for your regular shower with your soap: they help you to use less soap, to lather up the soap really nicely and to use up even the smallest soap residue. In addition, your soap can dry perfectly in the bag.
Of course, our Metanoia Soap Saver Bag goes perfectly with our Nirvana Body Soap. This dream duo is also available as a set .

Happiness in sachet form.
Perfect for yourself and as a gift.

Hints / warnings

Care instructions: Allow the soap bag to dry well after use, preferably by hanging it up. It can be washed at max. 30 °C and is suitable for tumble drying.
Materials

Bag: organic cotton
Labels & cord: cotton

Dimensions: 13 x 11 cm
Share
View full details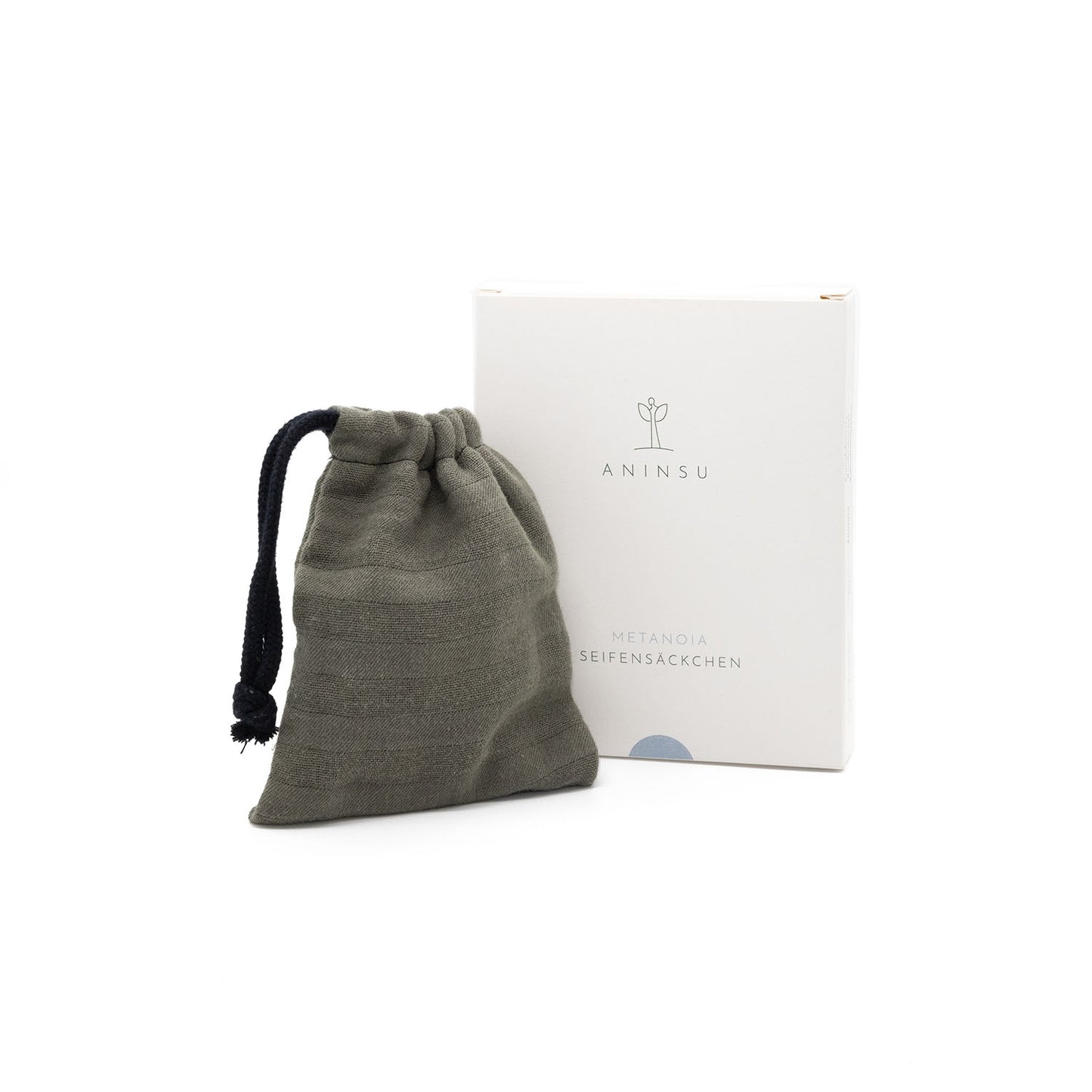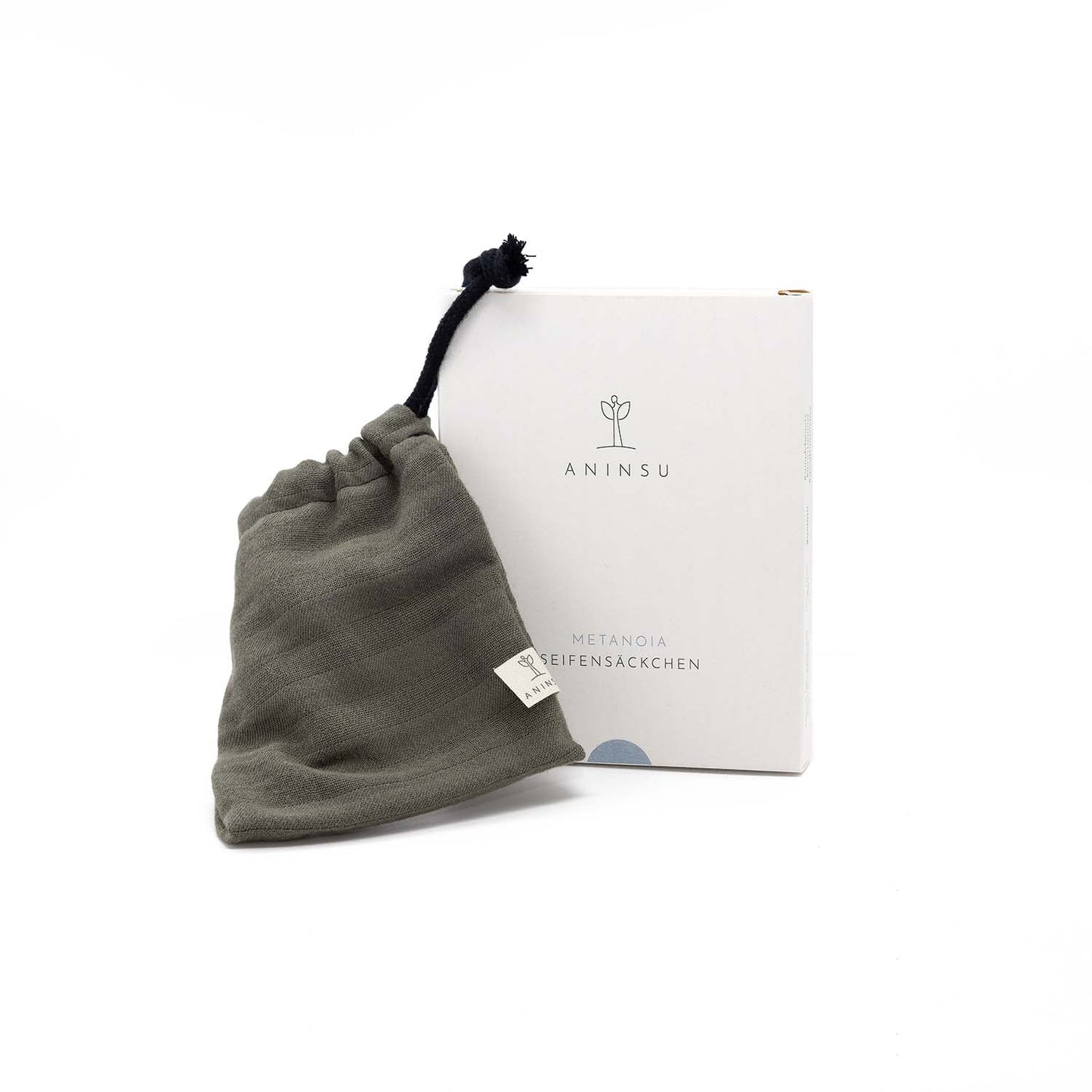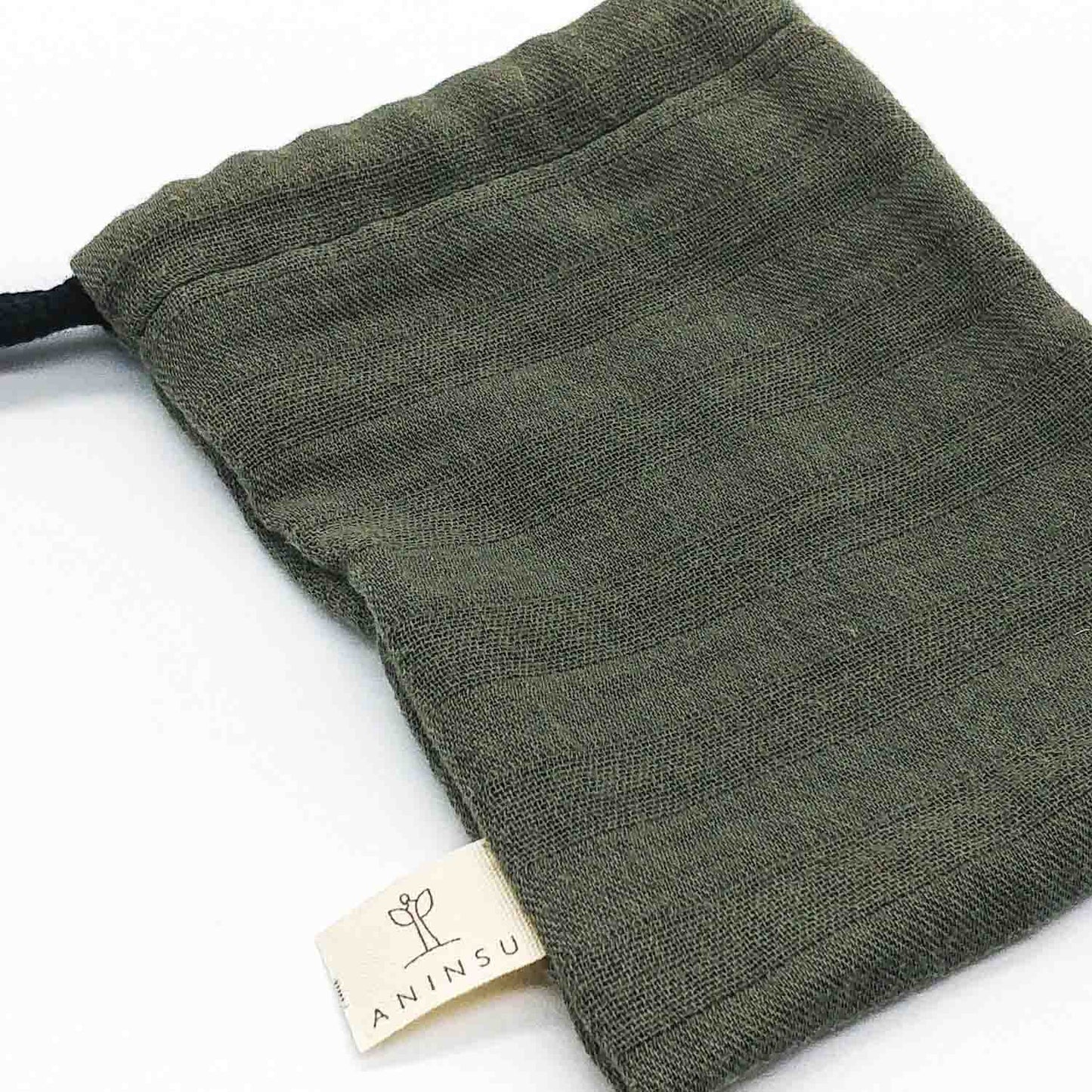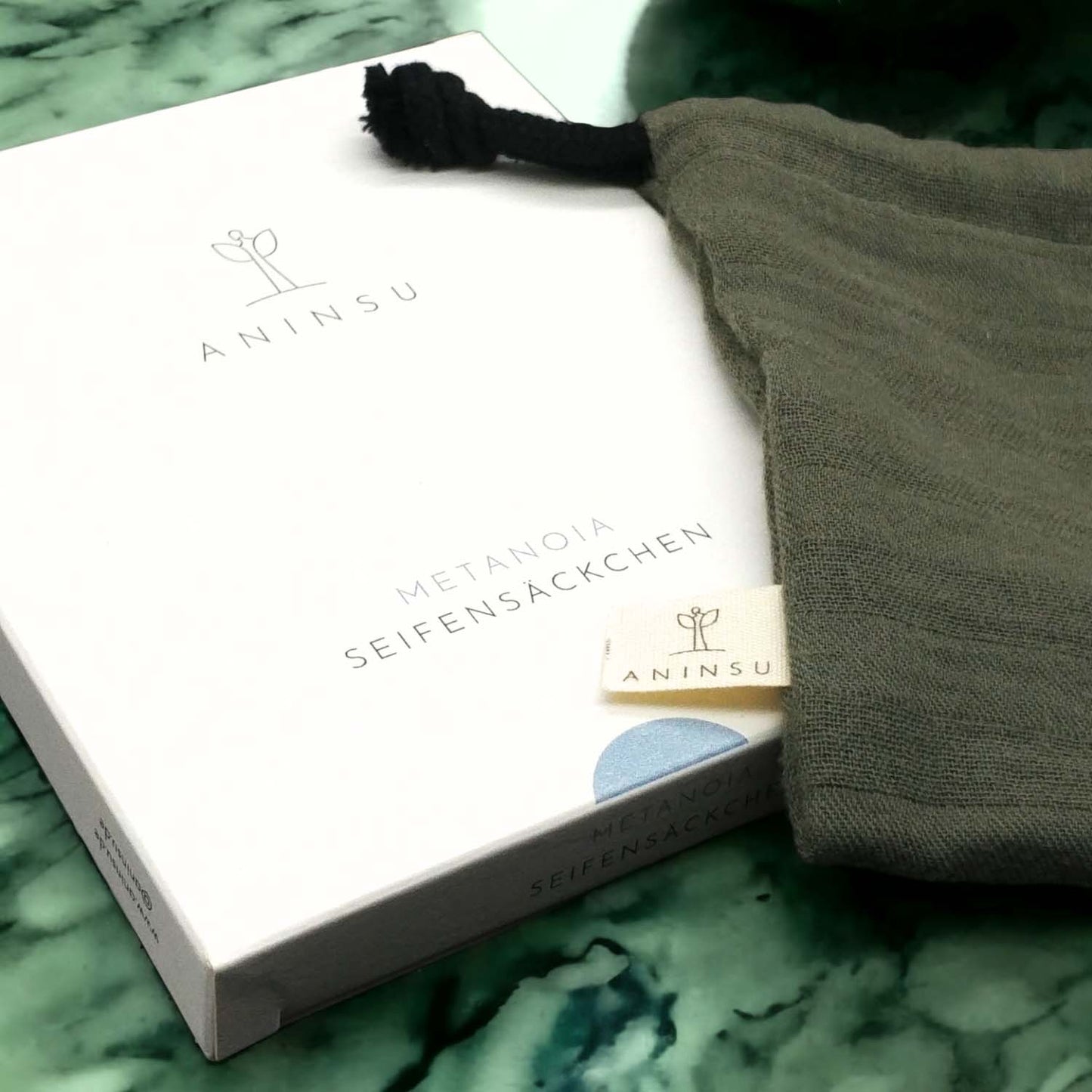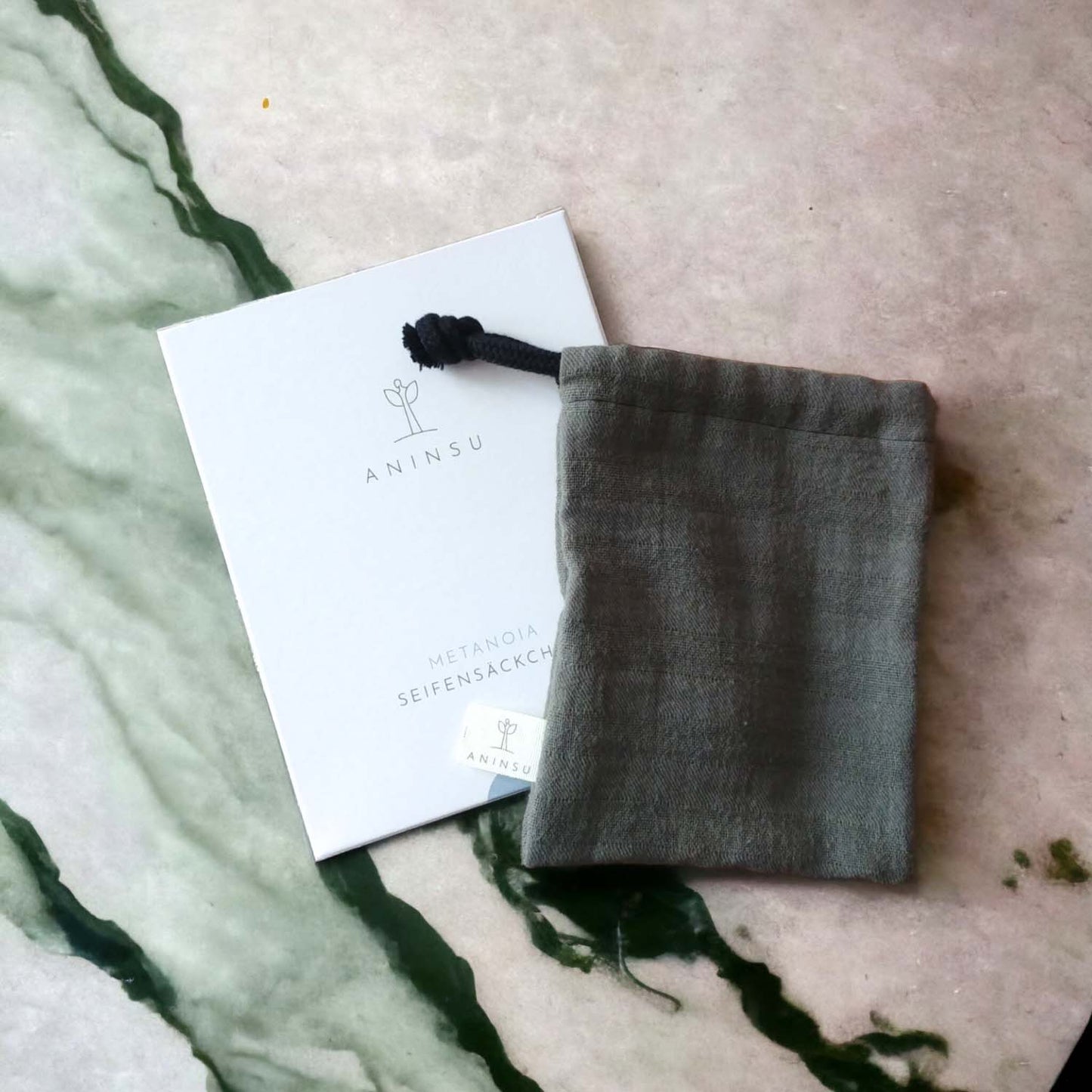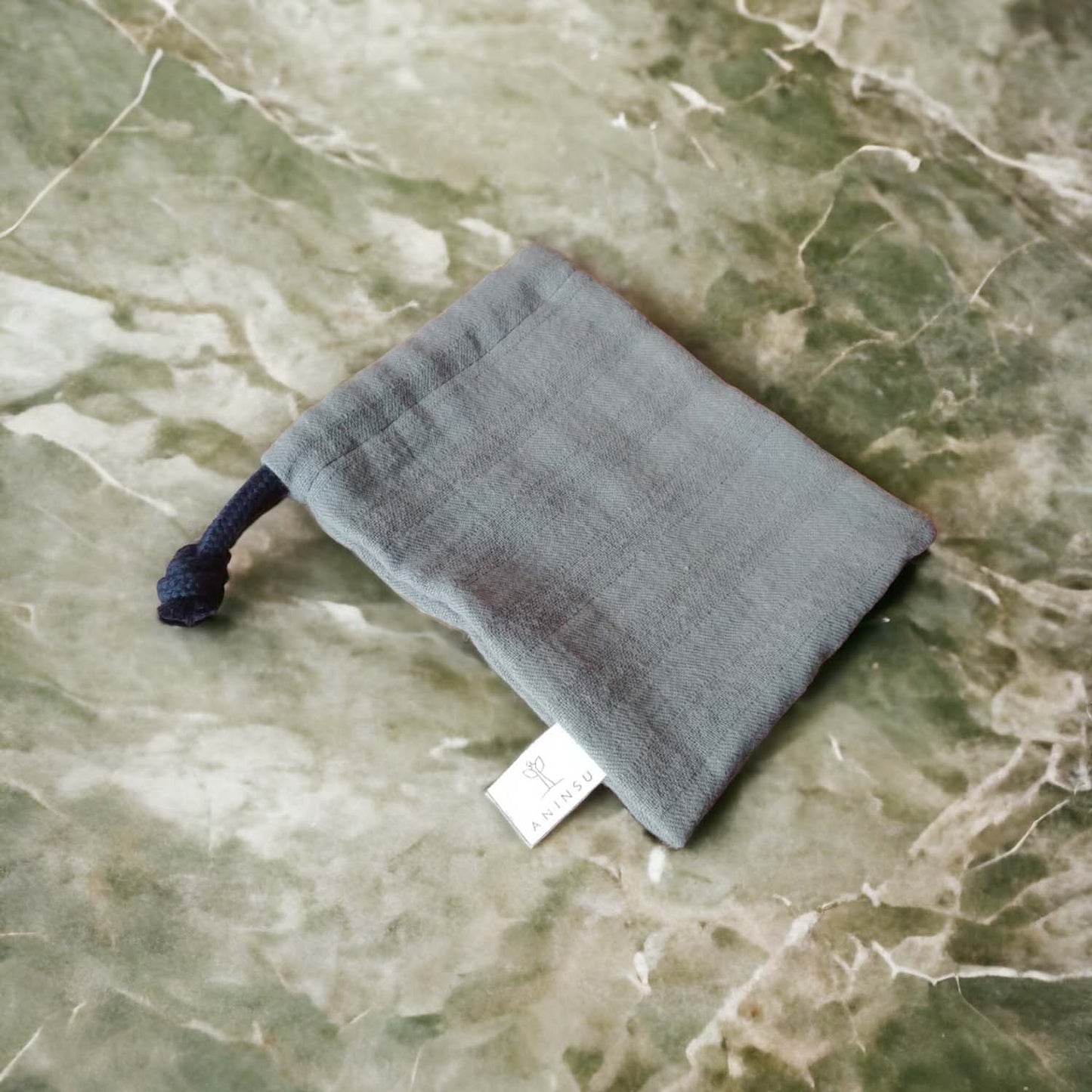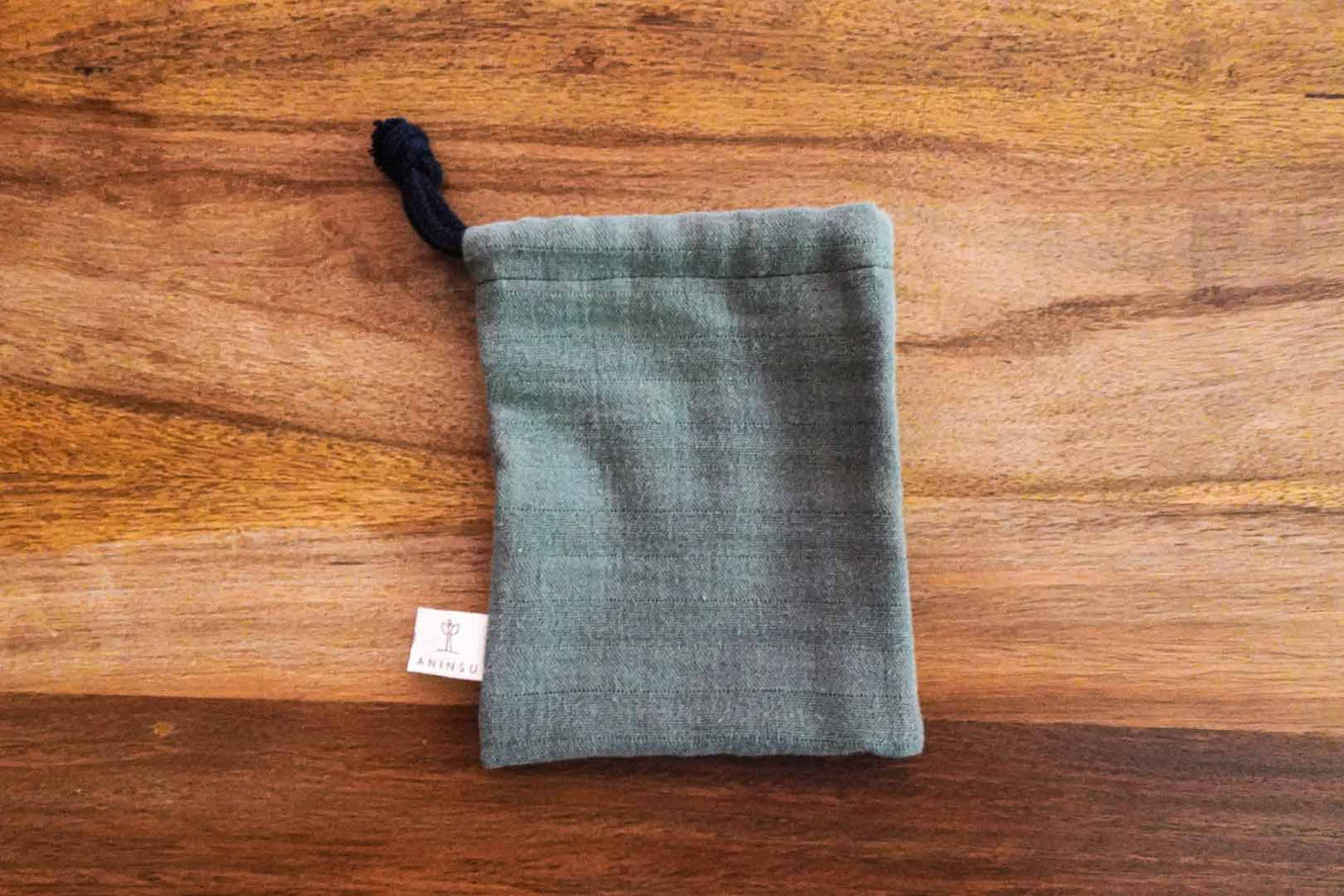 Our Musselin
✔ Little bag made from muslin, a fabric made from organic cotton
✔ Cotton primarily from a cultivation project in Uganda
✔ The manufacturer of our muslin is based in Germany, is a permanent contractual partner of the project and has control over the entire production chain, from the cotton field to spinning, weaving and finishing, right up to making up.
✔ The manufacturer agrees fixed prices with the local farmers, including an organic surcharge, and there is also a fair trade surcharge for the cooperative.
✔ Cotton cultivation is organically controlled and all ecological aspects are supervised by an independent certification body
✔ Depending on the yield of the harvests, cotton fibre from a similar cultivation project in Kyrgyzstan may exceptionally be used for a spinning solder.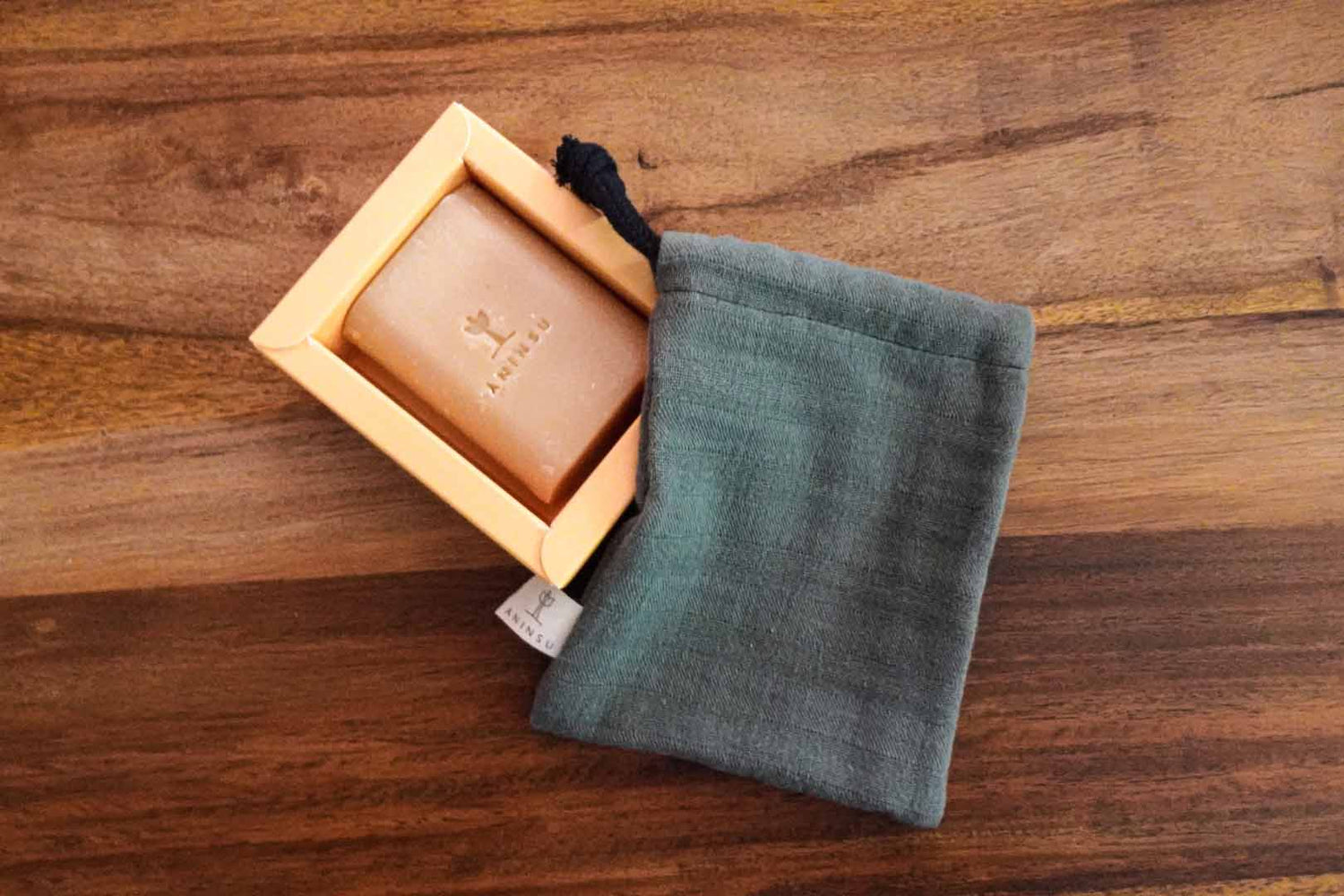 Quality
✔ Cotton cords from Turkey, vegan certified
✔ all labels made of cotton
✔ Inner label and the printing ink used vegan
✔ Outer labels certified for product class 1 according to OEKO-TEX® Standard 100 and the water-based printing ink used has ECO PASSPORT by OEKO-TEX® certification and complies with STANDARD 100 by OEKO-TEX® Product Class I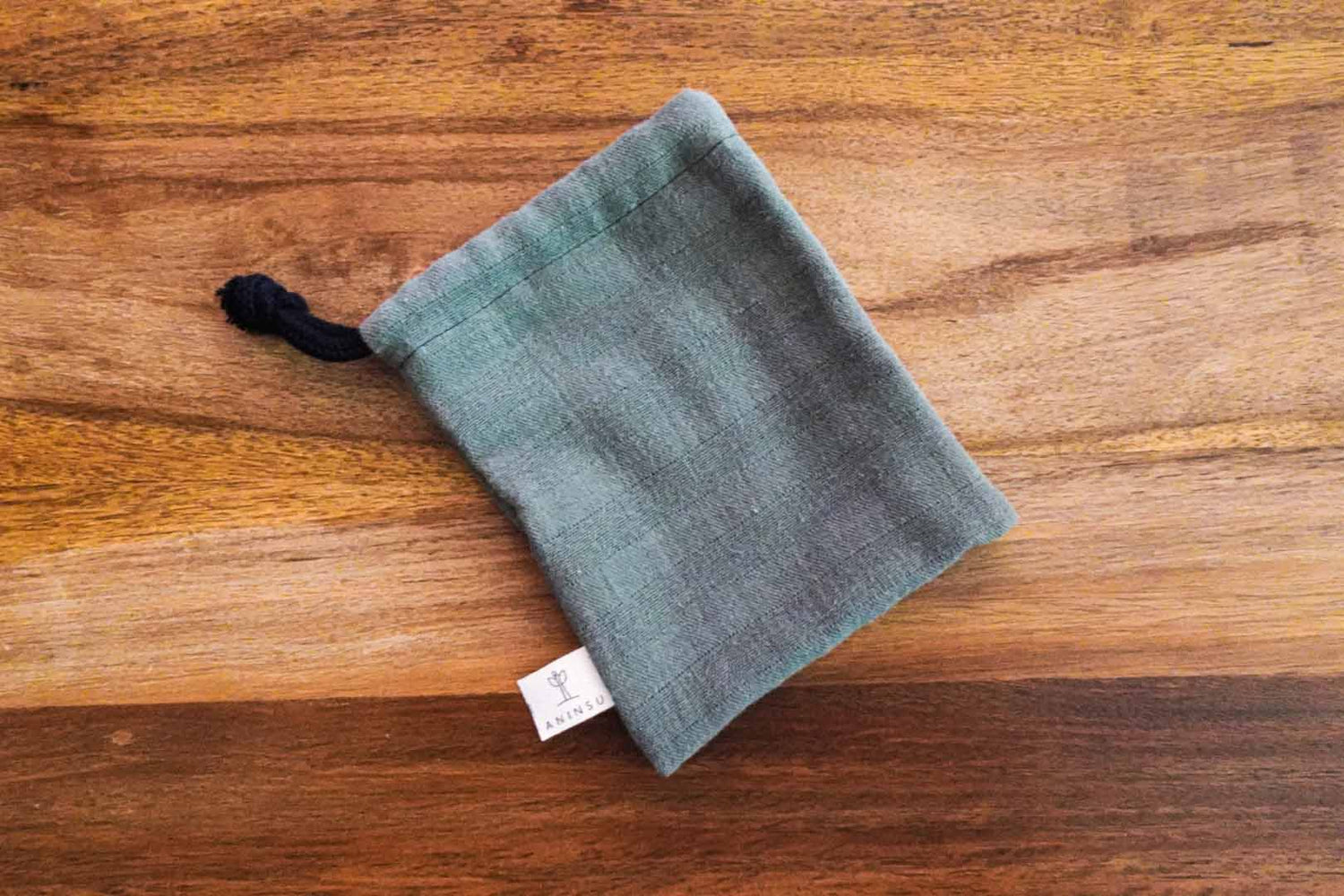 Production
✔ Fairly handmade in a textile factory in the beautiful east of Germany.
✔ The company pays its seamstresses more than the minimum wage and attaches great importance to regular working hours, a good work-life balance for the employees, a healthy working atmosphere and solidarity with one another.

✔ We are happy to be able to work with a factory that helps to maintain local social stability by creating local jobs.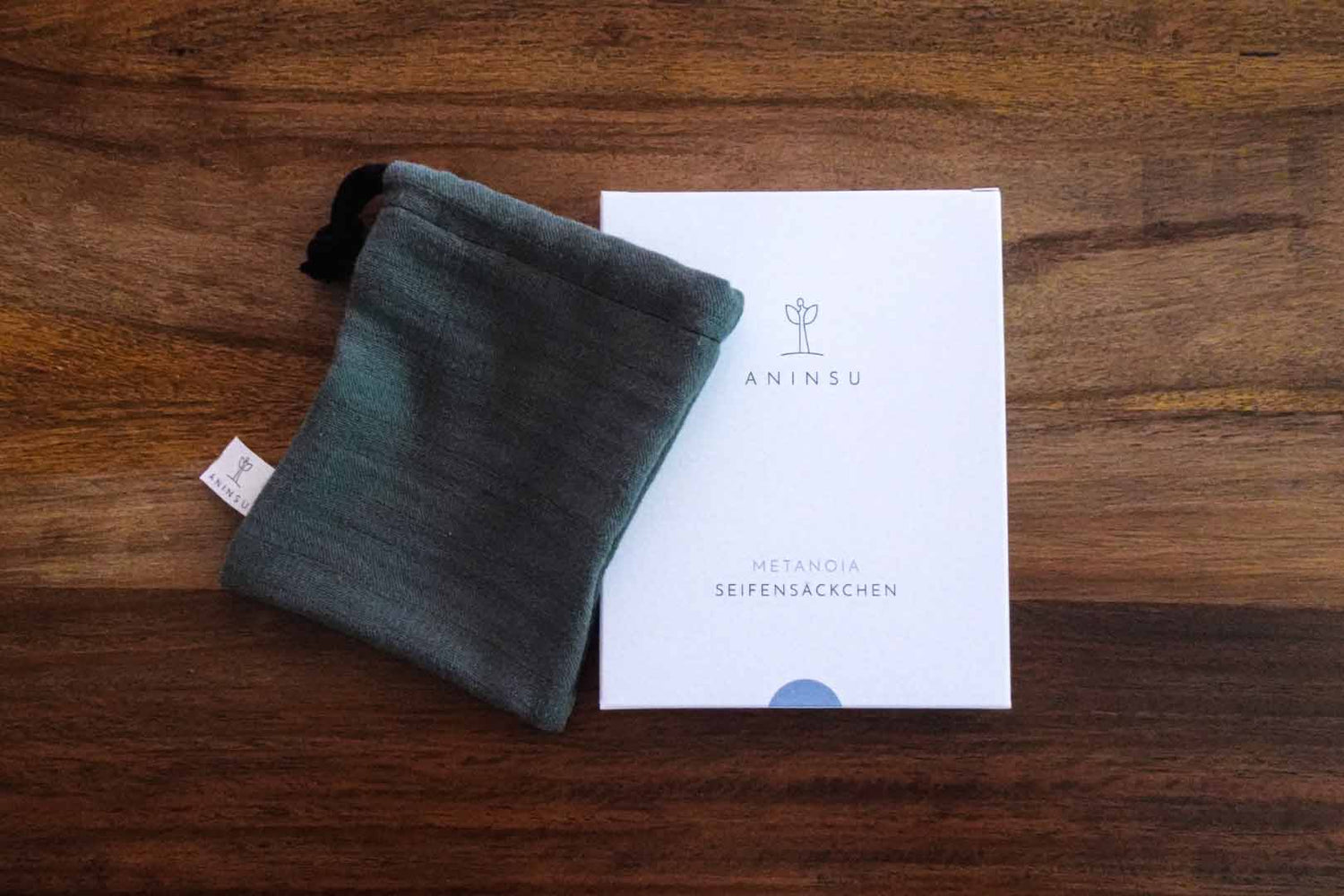 Packaging
✔ Cardboard packaging plastic-free and biodegradable
✔ Cardboard from Sweden made from wood from certified sustainably managed forests

✔ Production facilities of our paper manufacturer are certified according to FSC® Chain of Custody and PEFC™.
✔ no animal testing is carried out for our cardboard, but also for our printing inks (cruelty free)
✔ printing inks are vegetable oil-based, vegan and meet the colour eco-criteria, which makes them more environmentally friendly than other inks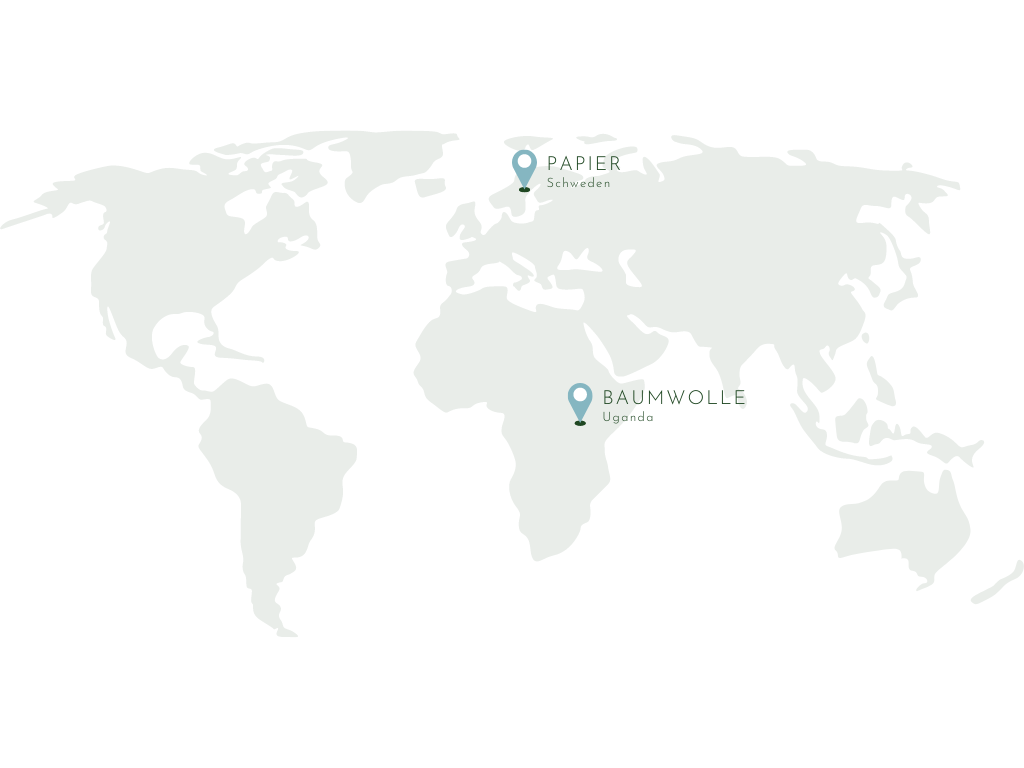 Origin of our raw materials
We focus on Europe for the sourcing of all our ingredients and materials. Outside Europe, we only buy what is not readily available on our continent.
M E T A N O I A
An inner change of mind, a fundamental shift in one's thinking, a fundamental reorientation: that is what Metanoia means to us. We chose this term as the category name for our care accessories because it excellently represents what it stands for: sustainable materials and raw materials as well as fair, sensible production. Metanoia is our antithesis to short-sighted consumption.
We check reviews of our products before they are published. Each review is checked individually to see whether it was made by a consumer who actually purchased the goods or services from us. An activation takes place after 24 hours at the earliest.